Comprehensive TVR Servicing and Repair
About SD Autotec -
Specialists in TVR
OPENING TIMES
Mon-Fri: 8am -5pm
Sat: 9am – 12midday
Sun: Closed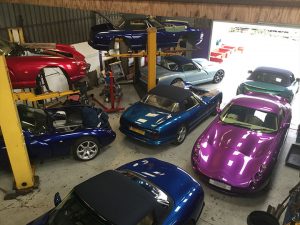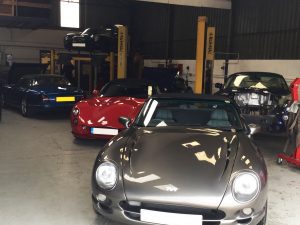 Based close to the A1 motorway in Yorkshire just outside York, SD Autotec offers unrivaled expertise in TVR Servicing and Repair.
For over 30 years SD Autotec has been known for providing excellent TVR services and support throughout the TVR community. Our expertise, attention to detail, friendly manner and excellent customer service has built a reputation second-to-none and ensures we continue to provide these services for TVR owners from all over the UK.
A 10% discount is available on all work for TVR Car Club Members.
Our comprehensive range of services include:
TVR Chassis Repair
TVR Servicing
TVR Alloy Wheel Repair
TVR Suspension Upgrade and Repair
Our private and well equipped workshop will provide space for 4 cars at any one time while up to 6 more cars may be stored for work pending/parts.
SD Autotec carries many of the items required to fix common TVR problems.  All our work including specialist work such as chassis replacements/repairs for all TVR makes and models are all carried out on site by our experienced TVR mechanics.